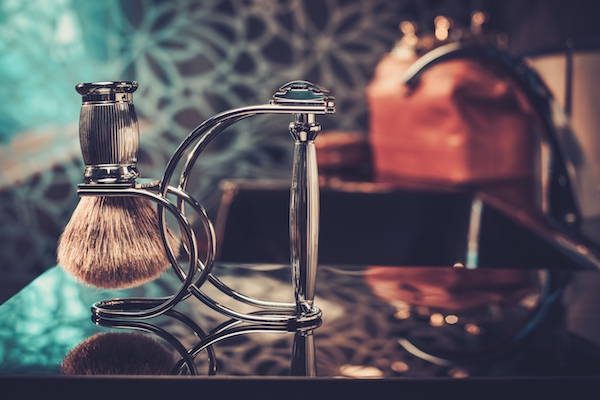 How To Achieve A Well Groomed Beard
This guide is designed to help you grow and maintain a well groomed beard. Whether you're after the short stubble look or a finely tuned beehive, we'll help you achieve your beard happiness.
Research shows a well groomed beard can help increase your attractiveness, make you feel more masculine and even demand more respect from others. However an unkempt beard can achieve the exact opposite so clearly the trick is keeping it well groomed.
HOW TO GROW A BEARD?
So where do we start on the quest for a well-groomed beard? When it comes to beards, there's one mantra that we tell our clients at Groom Manifest;
The Secret Forumula: Healthy skin = healthy beard
THE CLEAN SHAVE
Start afresh with a decent razor and quality wet shave, leaving your skin smooth and hair free. Consult our previous guides on how to achieve the optimum shave. A quality shaving cream will improve the quality of your shave whilst helping replenish and sooth your skin – ready for it's journey to beard paradise. LET IT GROW
Like a fine wine, we have to give beards time to mature – be patient. If you're looking to progress beyond the initial stubble stage you may start to experience some itchiness. Rest assured this can affect most men and is generally caused by dry skin. There's a simple solution to beard itchiness and it comes in the form of a beard oil or beard moisturiser. The essential oils will help nourish the skin and beard hair, reducing the itchiness and allowing the beard to grow stronger and healthier. A good beard oil will have the added benefit of leaving your beard shiny – much to the envy of your less knowledgeable bearded friends.
HOW LONG DOES IT TAKE TO GROW A BEARD?
It takes two to six months to grow a decent beard however the results will vary man to man. Like long distance running, there's various stages depending on how far you take your journey. Beard enthusiasts don't measure length, they measure in months – a 1-month beard, 3-month beard and a yeard, a year long beard. The Olympic standard of beard growth is the 'terminal beard' which is apparently the maximum length you can grow, based on your genetics.  
HOW TO GROW A BEARD FASTER?
Ok so you're in a hurry and like many successful men, you're impatient. The good news is there is a variety of things you can do to grow a beard faster and stronger, here are some of our top tips:
Exfoliate your skin and wash with warm water to remove dead cells
Use a high quality beard oil that contains natural ingredients such as Patchouli, for soothing and moisturising the skin, and Rosemary which was discovered by the Roman's to stimulate hair growth
Sleep well – science shows that the more your sleep, the more your skin cells repair which promotes hair growth
Diet can play a big factor, a diet high in protein from foods such as meat, fish, eggs and nuts can help facial hair grow faster. Vitamins A,B,C and E also speed up the growth process
If you're goal is length, refrain from shaping or trimming your beard too much.
HOW TO TRIM A BEARD?
To achieve the benefits of a good looking beard you'll need to keep it groomed. You don't need to be a landscape gardener to achieve the right look, just follow the simple steps below.
It helps to think of your face as a map, your beard an invading army. If you don't control the front line, there's really no reason to stay in the fight. t.
(1) Shave the neckline. If you're looking to retain a professional and well groomed image, then this is the quickest way to achieve it. Use your razor of choice and a good shaving cream to keep the neck smooth and devoid of hair.
You'll want to follow a straight line from below the earlobe and stop at the angle where your neck meets the underside of your jaw, below the chin. Avoid the mistake of trimming the neckline too high up on the neck and entering the jawline.
Smarten the edges. Use a safety razor or straight razor to take off the hairs around your beard and give it some definitive lines. Avoid cutting into the beard and destroying your hard work. You'll also want to trim around the top of the lips to avoid chomping on the moustache.
A good comb will allow you to straighten the hairs and we recommend using an electric razor with a fine trimming option to trim the edges near the lips to avoid cutting yourself.
Stubble look – To achieve and maintain the stubble look you'll need to get a good beard trimmer which allows you to set your trim levels by the millimetre. We recommend a setting of around 2mm to achieve short stubble and 4/5mm for long stubble.
The full beard – to achieve a nicely groomed full beard you will want to have good length across the cheeks, moustache and chin with the length increasing towards the bottom of the face. To achieve this look you'll need to use a beard trimmer to shorten the length at the top of the cheeks by 1 or 2 mm. You can also give more definition to your jaw by leaving more length around the moustache and chin.  
HOW TO SHAPE A BEARD
A good beard and moustache comb will help you tame your mane and keep it in check. Comb your beard when in the shower to exfoliate the skin beneath your facial hair and to straighten your hairs for easier trimming. Running the comb through dry hair will help you straighten unruly hairs and give your beard a nice flow.
Use an electric beard trimmer to shorten hair in required places, such as the cheeks and moustache, to help give your beard the required shape.
If you're going for length then it's imperative that you invest in a good moustache wax which will help hold your stache in place. Scoop a small amount out with your fingernail and warm between your palms/fingers before applying to your moustache.
We hope this guide has given you all the information you need to grow and maintain a well groomed beard. If you have any questions or need some man-to-man advice, don't hesitate to get in touch info@groommanifest.com